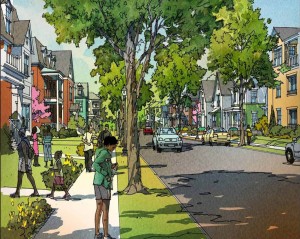 Drawing of the new mixed-income, multi-family
housing to be built on the Poindexter Village site.
Columbus Choice Neighborhoods Transformation Plan and Application
In 2011, a partnership of CMHA, The Ohio State University, and the City of Columbus launched Partners Achieving Community Transformation (PACT) to undertake a community-based process to develop the Blueprint for Community Investment, a plan to revitalize the Near East Side neighborhood (see map below). The neighborhood includes the 26-acre site of the Poindexter Village public housing community, a 414-unit development constructed in 1940.  The U.S. Department of Housing and Urban Development (HUD) awarded Columbus a $300,000 Choice Neighborhoods Initiative (CNI) Planning Grant to prepare the plan.
The Near East Side PACT Neighborhood boundaries are: I-71 on the west; I-670 on the North; E. Broad Street on the South; and Woodland Avenue on the East. It includes the site of the former Poindexter Village public housing community
[/caption] Using the Blueprint
as a foundation, CMHA was the lead applicant for a HUD CNI Implementation Grant application, on behalf of lead entities the City of Columbus, McCormack Baron Salazar, Urban Strategies, Columbus City Schools, and PACT. On June 30, 2014, HUD Secretary Shaun Donovan announced the award to Columbus of a $29.7 million grant, one of four awards in the nation. The Columbus application was the top-rated among the 44 applications received by HUD.
The Columbus CNI Program
CNI implementation grants are required to leverage significant local resources to help communities transform struggling neighborhoods through strategies that address three core goals:
1.  Housing
: Replace distressed public housing with high-quality mixed-income housing that is well-managed and responsive to the needs of the surrounding neighborhood;
2.  People
: Improve educational outcomes and intergenerational mobility for youth, with services and supports delivered directly to youth and their families; and
3.  Neighborhood
: Create the conditions necessary for public and private reinvestment in distressed neighborhoods to offer the kinds of amenities and assets, including safety, good schools, and commercial activity, that are important to families' choices about their community.
The Columbus CNI plan includes the following components to achieve these goals: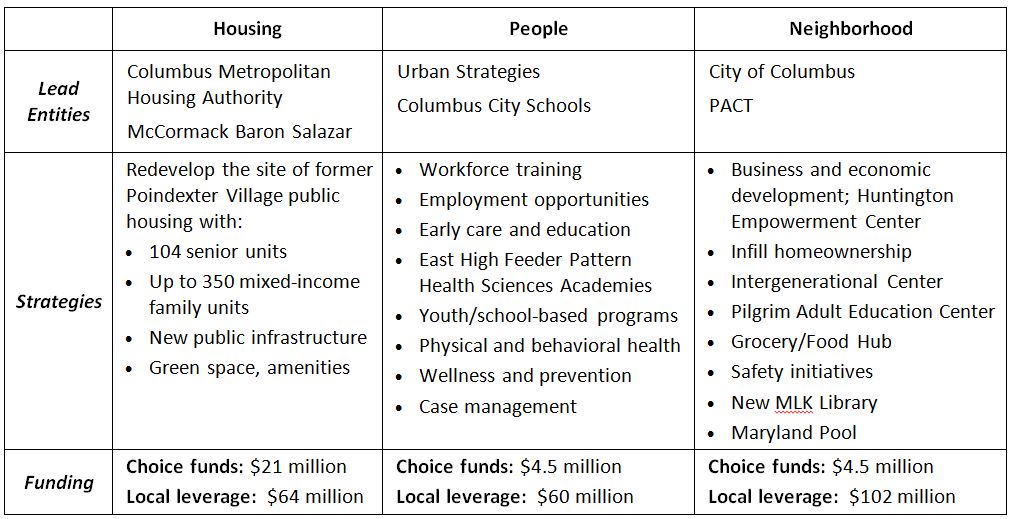 Additional information about the Columbus Choice Neighborhood Initiative